Filter coffee, cappuccino and the classical Greek coffee are perfect choices in the winter, but when it's 35 degrees Celsius outside, they are not very pleasant. What are the most delicious types of coffee we prefer in the summer and how can we enjoy them the best?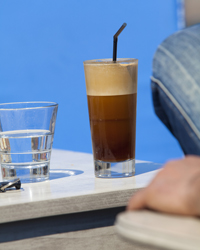 Frappe – the favourite coffee of all Greeks
Most people associate the traditional "Greek" frappe with sitting in one place, backgammon and relaxation. A little milk, sugar and lots of ice, it cools us down while we stir it light-heartedly with the straw. It was discovered in 1957 by Dimitrios Vakondios at the Thessaloniki International Fair, when he could not find hot water for his coffee and tried to mix it in a shaker with cold water. We are very grateful to this "discoverer"!
How to enjoy it: with milk and sugar, it is an exceptional drink which quenches the heat and, in parallel, replaces the sweet taste of ice cream.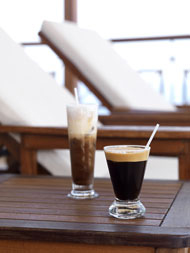 Espresso Freddo: a mini-sized icy delight
The Italians' favourite coffee has a summer version, with lots of ice and light foam. Luigi Bezzera from Milan was the inventer of the espresso machine and he is highly respected by fans of this type of coffee. Espresso Freddo is served in a medium glass with lots of ice (preferably crushed) and sugar if you want.
How to enjoy it: In order to energise your nervous system, choose a sugar-free Freddo. If it's too strong, add a pinch of sugar, but be careful not to spoil the flavour of the coffee.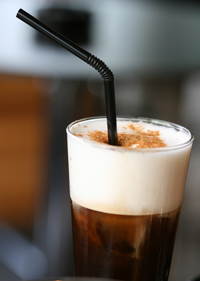 Cappuccino Freddo: our greatest love
Today's version of cappuccino was created in the 17th century when Venetian monks tried to dilute the classical Turkish coffee and added honey and milk to it. The coffee's colour was reminiscent of that of the race of Capuchin monks and hence the name. The summer version of cappuccino is enriched with crushed ice and cold milk froth, creating a layer above the coffee. This is the biggest rival of frappe, but it is not as strong as frappe, since it is filtered.
How to enjoy it: You should be very careful not to put too much sugar and froth, since your coffee can become a calorie bomb … Put a little sugar, if you don't like it black, and two fingers of froth.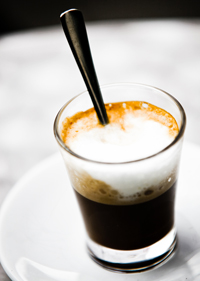 Cold Greek coffee – an alternative national delight
If you are a fanatical lover of Greek coffee, then we are happy to inform you that it is not necessary to forget it during the summer months. Instead, you can enjoy it in a cold version. Making it takes time, but if you like the taste, then it's worth the effort. Make your coffee the way you make the hot one and then let it cool in the fridge. Then strain it through a filter and add ice. If you prefer it with milk, you can add a little.
How to enjoy it: in this case make your coffee just like the hot version. The taste is the same, but icy …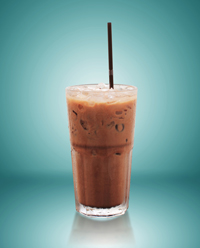 Freddoccino: a "dessert" with a little guilt
This is not exactly coffee, since it is more like a dessert. But you shouldn't worry, because it is drunk in the summer and if you ignore the calories it contains, it gives us a cool delight at the beach or in the cafeteria in the afternoon. It is made from a dose of coffee, milk, sugar and chocolate. After combining the ingredients with a lot of ice in a blender, the drink is ready to serve and looks like a milkshake.
How to enjoy it: Most often, in cafes, freddoccino is made from instant mix, but if you want to enjoy it at home, you can mix a dose of coffee, some milk, 2 teaspoons of chocolate powder and a teaspoon of sugar.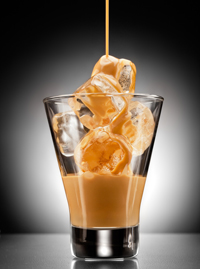 Frappe with Baileys: a double delight in a cup
Adding some Baileys to your classic frappe is an excellent summer choice. First, make a black frappe with no sugar or milk, then add a dose of Baileys. The alcohol and taste of coffee and cream in it which will highlight the flavour of your coffee and will make you relax, leaving a sweet aftertaste in your mouth.
How to enjoy it: although you can add sugar if you want, we recommend not to. Baileys itself is quite sweet and will give your coffee the necessary sweetness.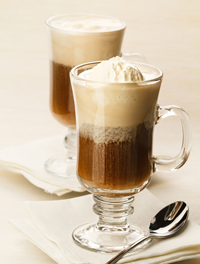 Espresso with ice cream: the perfect summer choice
Last but not least – the best of all choices. This is the most summery and sweetest choice because we deserve it! Just like frappe with Baileys, for this type of coffee all you need is a dose of ordinary espresso, with no sugar. Then, pour it gradually into a tall glass and add 1 or 2 balls of vanilla ice cream to it. Let the coffee slowly melt the ice cream and mix it. This coffee is also known as Ice (cream) coffee abroad and is very popular on hot days. The result is exceptional, delicious, aromatic, sweet and totally summery.
– See more at: http://www.grreporter.info/en/espresso_freddo_vs_frappe_best_types_coffee_summer/9388#sthash.dU0qH3pC.dpuf